December 2013 Favorites



Who else thought December flew by rather quickly? It didn't even feel like Christmas has passed, at least for me. Here are some of my favorites for the month!
Clean & Clear Hydrating Gel Moisturizer
I never really cared about skin care products, but this winter particularly made my skin unusually dry and patchy, and this moisturizer really helped ease that problem. I usually apply this on my chin area before going to bed and applying foundation. It definitely helps eliminate the dry skin that my makeup accentuates... not to mention, it has an incredibly sweet melon scent!
Daiso False Eyelashes
I normally don't wear falsies, but since it's the season of holiday parties, I've worn these quite a few times throughout the month. I wrote a review
here
in case you want to know how awesome it works!
Wet n Wild Megalast Lip Color in Spiked With Rum
I've been on a hunt for the perfect lippie, but I haven't quite found it yet. However, I've been loving some of my recent drugstore purchases that I already raved about in my reviews.
Here's
the one for Wet n Wild's Megalast lipcolors. My favorite one among the collection is "Spiked With Rum," which isn't included in the review because I bought it separately online. A substantial part of my high standards when it comes to the perfect lipstick is the
color
. This product already has it all except for that, although it's the closest color that I've been looking for. While it's the perfect fall/winter shade, I do wish it was a tad bit lighter so it would be more wearable year-round. I really want a natural-looking dusty rose shade, but it's super hard to find, so for now, I'll settle for this.

E.L.F. Matte Lip Color in Rich Red
Here's another one of my lip favorites, which a stunning true red shade that's perfect for holiday parties. I've been wearing this almost everyday for the past week or two, and it's definitely a bold color that may not be desirable to everyone. I also
reviewed
this recently and absolutely consider it a keeper.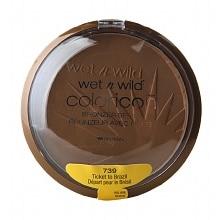 Wet n Wild Bronzer
I recently hopped on the contouring bandwagon, and I've certainly added bronzer to my daily makeup routine. I find this to be a good one for starters, but it has a slight shimmer which is more suitable for summer. I was looking for one that's inexpensive and matte, but drugstores don't seem to have it, so I guess I'll just wait and save up for one of Benefit's eye-candy bronzers.
Here are some of the Christmas songs that I've been listening to throughout the month, and naturally they'd be by Ariana Grande, who hands down has the perfect voice for Christmas songs. I especially love her rendition of "Santa Baby," mainly because Liz Gillies is in it, whose voice couldn't be more perfect for this song.
I don't have fashion favorites for December because the weather hasn't really cooled down yet (really, Christmas felt like a slightly breezy summer this year), so most of my outfits are still fall-inspired. If you missed my fall favorites, check it out
here
! Also, follow me on
Luvocracy
if you'd like to see some of my beauty and fashion recommendations!
I hope you all had a great 2013!
xoxo,