February 2014 Favorites
I only have a few products to show since I haven't really been out much for the past month, but here are some of my faves!
Rimmel Stay Matte Liquid Mousse Foundation
My current holy grail foundation would have to be Rimmel's latest Stay Matte product. I reviewed this a while back which you can check out
here
. It really is amazing for a $5 drugstore foundation!
Sephora Birthday Gift 2014
One of the things I always look forward to on my birth month is Sephora's free makeup set. Despite how much I love them, they last me a really long time for some reason even when they're only sample sizes. Anyway, if you haven't seen what they have for 2014, check out my review here!
I recently incorporated bronzer into my daily makeup routine, and this has been the perfect drugstore bronzing powder. I've heard that it's a great dupe for Benefit's Hoola, which is apparently a highly acclaimed bronzer. I really like that it's completely matte because I'm more into contouring rather than having a sun-kissed glow, so I think it's a great year-round product.
Revlon Brow Fantasy

in

Light
While I'm still on a hunt for a holy grail eyebrow product, I've been using Revlon's Brow Fantasy. It's a dual-ended tube with a pencil on one side and a gel on the other. I'm not too crazy about the pencil because of how soft it is, but the brow gel is quite decent. I actually really liked it until I tested Benefit's Gimme Brow when I was at Sephora, so I'll probably give that one a try along with Anastasia's Brow Wiz.
Tweezers from Target
I've been using an eyebrow trimmer for the past couple months, but it never gave me my desired shape, so I got these pointy tweezers (I forgot what brand it was) which are incredibly easy to use.
Click below to find these products:
Fashion
I was initially looking for chunky-heeled ankle boots, but I instantly gravitated towards these "shooties." I've been wearing them everywhere because they're super versatile, and the olive color surprisingly goes well with any outfit. Plus, the heels don't make clucking sounds which I can always appreciate.
Newsboy Cap - $5.99
I don't wear hats very much other than beanies, but I've been really liking this newsboy cap that I got from Zizibeh. I love how it makes any outfit look very classic and unique.
Song
I know this song was released almost a year ago, but I

just paid attention to it now and it's been on repeat ever since. I don't know why, but I always feel nostalgic when I hear it. It feels very old-school and classic!
TV Show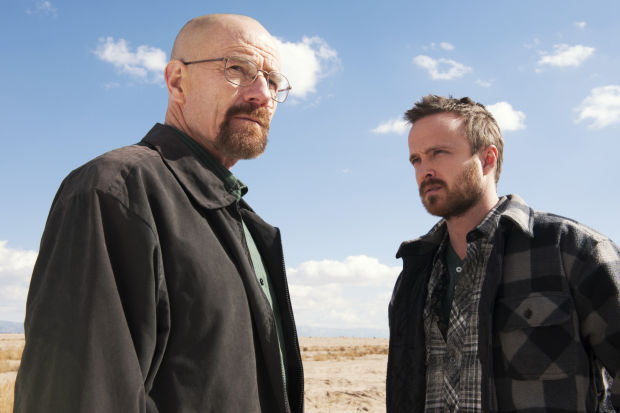 NBC's Breaking Bad
I recently got into Breaking Bad and I've been binge-watching it on Netflix for the past month. I have one and a half more seasons to go, and it has been nothing but brilliant so far. The writing, acting, characters - everything is just great. I don't wanna finish it because I'll feel all empty. Does anybody feel that way whenever they finish a great series?
Anyway, that's all for the month of February. Thanks for reading!
xoxo,